Writing & Study Skills Center
Welcome to the Writing and Study Skills Center! We offer individual and group tutoring sessions to help students build the foundational skills they need to thrive in college and beyond. Our professional tutors can help you build strategies to become a better writer, reader, and student. All of our tutoring is free to UC Blue Ash students. To chat with a tutor, schedule a live session, or send in your work for feedback, please see below!
Meet with us for feedback
Meet with a tutor in-person or on Zoom to talk about your writing and study skills questions. Drop into the WSSC, located in Muntz 112K, or book your appointment using TutorTrac.
For information on how to book an appointment using TutorTrac, please see below. For questions, please contact eric.vanhoose@uc.edu.
Submit your work for feedback
Send your work directly to our team to get feedback. We're able to comment on papers of six double-spaced pages or fewer. If you're working on something longer than six pages, we invite you to submit a shortened section or to schedule an appointment with a tutor.
One of our tutors will read your submission and provide written, audio, and/or video feedback to you via email within 24-48 hours (weekend turnaround times may be longer).
The Writing and Study Skills Center at the University of Cincinnati Blue Ash College empowers UCBA students across the disciplines to develop as writers, strategize their success, talk about texts, and connect to community. Our caring and experienced staff collaborate with students through individualized, student-centered, goal-driven and reflective sessions that are grounded in multi-disciplinary scholarship.

In our holistic approach to learning, we value open-mindedness, creative self-expression, collaboration, community, and reflection.

Individual tutoring sessions that provide one hour of tutoring combined with critical reflection on the skills being practiced.
We can help at any stage in the writing process to develop a student's writing skills and critical thinking in all disciplines.

Individual tutoring sessions provide one hour of one-on-one work with a tutor to help build critical reading strategies geared toward helping students comprehend college-level texts in all disciplines.
Sessions can help students build reading comprehension, critical thinking skills, and vocabulary.
We can develop individualized reading programs for independent study.
We provide language and reading support for non-native speakers of English.
Individual tutoring sessions provide one-on-one or small group study skills tutoring in most academic subjects.
Interactive workshops on topics such as time management, organization, taking notes, improving memory/concentration, managing stress/test anxiety, problem solving, among others.
Test review service to help students improve their test-taking skills.
Writing and Study Skills Center Hours
Charles Gabel is a writer from Cincinnati, Ohio. He earned a B.A. in Classical Civilization from Loyola University Chicago and an M.F.A. in Creative Writing from Boise State University, where he focused in poetry. He then worked for several years at the Cincinnati Public Library before coming to UCBA. At the Writing Center, Charles is especially excited to see creativity in all forms of writing.

Breen Reardon first began thinking about English education as a career many years ago as an undergraduate peer tutor at Youngstown State University. After a 33-year teaching career, the last 27 of which were spent at Sycamore High School in Cincinnati, he is excited to return to a tutoring position at the Writing and Study Skills Center at UCBA. Breen has an B.A. in English Education and an M.A. in English, and in addition to his high school teaching career has taught undergraduate English classes at Ohio University and Miami University. He believes that writing is thinking and that everyone is a writer!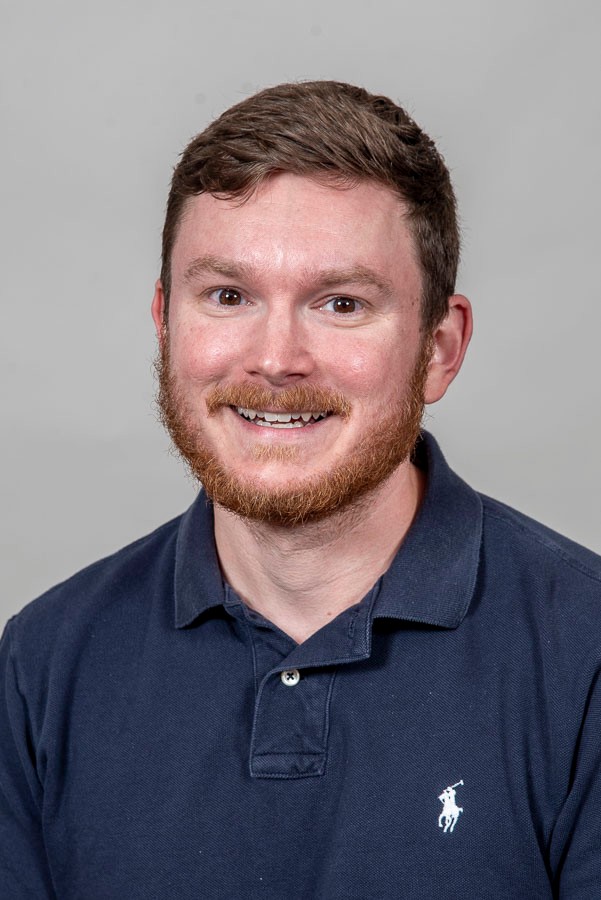 Eric Van Hoose
Writing and Study Skills Center Manager, Adjunct Assistant Professor of English
Muntz Hall 112K
Eric Van Hoose earned a bachelor's degree in English at UC, a master's in literature at Syracuse University, and a Ph.D. in creative writing back here at UC. He loves storytelling of all kinds, especially fiction. His favorite thing about tutoring is working closely with students as they find their voices and discover new ways to share their ideas with the world.

Eric Van Hoose
Writing and Study Skills Center Manager
Muntz Hall 112K
513-558-9446
eric.vanhoose@uc.edu
Fall 2023 WSSC Hours:

| | |
| --- | --- |
| Day | Time |
| Monday | 9:00 a.m. - 6:00 p.m. |
| Tuesday | 9:00 a.m. - 6:00 p.m. |
| Wednesday | 9:00 a.m. - 6:00 p.m. |
| Thursday     | 9:00 a.m. - 6:00 p.m.       |
| Friday | 9:00 a.m. - 5:00 p.m.   |
| Saturday/Sunday | Closed |