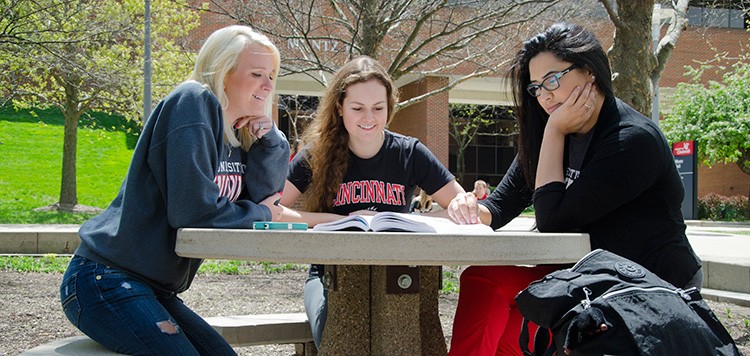 Welcome to the Accessibility Resources headquarters at UC Blue Ash College. Our mission is to provide students with any type of disability (visual, hearing, physical, psychological, cognitive, learning, ADD, medical condition, etc.) equal access and appropriate accommodations while participating in college courses, programs and activities.
The UC Blue Ash College Accessibility Resources office (AR) seeks to ensure that all students with a documented disability can freely and actively participate in all facets of college life.
To that end, Accessibility Resources creates opportunities for and promotes educational experiences, advocacy, and enrichment to persons with disabilities.
Finally, AR seeks to increase the awareness and training among the UC Blue Ash College community so that students with disabilities continue to be perceived as people with promise.
Drop-In Office Hours: Monday - Thursday, 10:00 am - 3:00 pm



Phone, Email and Virtual Hours: Monday - Friday, 9:00 am - 5:00 pm
Scheduled Appointments Available
513-558-9414
Specific Accessibility Accommodations
UC Blue Ash offers a variety of acessibility services, including guides for parents and a full explanation of benefits you can expect to receive during your time as a student.
These are some of the most needed Accessibity Resources forms for students:
Additional Accessibility Information
Accessible Voter Registration
The following sites (offices) at the University of Cincinnati shall operate as voter registration sites for students and other persons with disabilities affiliated with the University:
Accessibility Resources Office
9555 Plainfield Road
Cincinnati, Ohio 45236-1096
Tel: 513-558-9414
Fax: 513-792-8624
Accessibility Resources Office
210 University Pavilion
Cincinnati, Ohio 45221-0213
Tel: 513-556-6823
Fax: 513-556-1383

Accessibility Resources Office
Enrollment & Student Services
4200 Clermont College Dr.
Batavia, Ohio 45103
Tel: 513-732-5327
Fax: 513-732-5303